Friday, May 4 was the first day of the DFAT event.  I had a long travel the night before and I arrived Davao City a bit past nine in the morning.  A friend and fellow-DFAT participant and her hubby nicely accommodate me in their lovely abode in Catalunan Grande.  They too did not have sleep the night before because of work and I guess because they waited up for me.  Anyway, after a quick breakfast, we went back to sleep.  I fell hard because if sis Kerslyn did not woke me up, I will never woke up on my own. lol!   To make the long story short — we were late!
We were late in our first appointment at Ranchero in Abreeza Ayala Mall which is at 2 pm.
When I saw the food on the table, I realized that I was hungry. lol!   All of them have done eating so we ordered what we liked to have and this:
Fresh lumpia
Fried lumpia
Bihon Guisado
Since we missed our lunch for sleep,everything looks and tastes good.  Though I only have a piece of the fried lumpia because I can feel the oil in spite of its crispy wrap.  The mixture of garlic and onions in the vinegar makes me want to have more but I tried controlling because it was not the only place to dine at that day.  That was only the start.  So with a serving of the bihon guisado, and almost all of the fresh lumpia, I felt full and ready to go.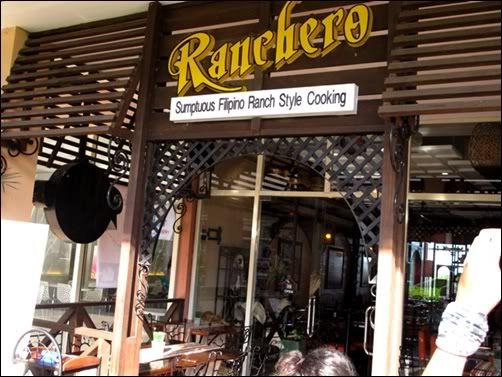 RANCHERO is located at the Third Floor Rooftop Garden of Abreeza Ayala Mall, Davao City.  If you love ranch style cooking as a break from your usual home cooking, then Ranchero is worth a try.  The place have the country ambiance, too.
Another thing that caught my attention when I arrived was the dragon fruit!  I have many co workers who loved  dragon fruit and I was reminded of one who brought the fruit all the way from Bangkok.  Anyway, I forgot to ask how much per kilo or per piece, but it was good to see that nutritious fruit right at their entrance.
Photo credits:  All photos were taken by me except for the Bihon Guisado which is taken by Crislyn.
Disclaimer:
All photos used in DFAT 2012 post are personal property of mine otherwise to whom credit is due will be mentioned.